Posts for: August, 2013
By Andrew Thompson, DDS, PC
August 21, 2013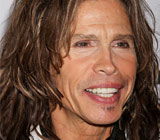 Rock star Steven Tyler fell and broke his two front teeth while on tour with his band Aerosmith not long ago. But Tyler was back on stage the very next day, thanks to modern dental implant technology.
Dental implants are the most optimal tooth replacement system in use today. The reason we say "system" is because replacing teeth with implants involves two, or sometimes three, components: the implant itself, which replaces the root-part of the tooth; the dental crown that sits on top of it to replace the part of the tooth that's visible in the mouth; and a connecting piece placed in between the implant and crown, known as an abutment.
The implant itself, made of titanium, is placed directly into the jawbone with a minor surgical procedure. Titanium has the unique ability to fuse to bone, creating a very strong connection. An implant provides virtually the same function as a natural tooth root, including stabilizing the bone underneath and preventing its loss — something that naturally occurs when a tooth is lost.
This fusion process takes a period of weeks, which is why the implant needs time to heal before a permanent crown is attached. One reason for early implant failure is "loading" them with biting forces too soon. But in experienced hands, implants are extremely successful. Documented research and clinical studies indicate success rates of over 95% — which is higher than any other tooth replacement option. Once integrated and functional, implants can last a lifetime. That's why, though they are a bit more expensive initially than other tooth-replacement options, they are more cost-effective in the long term.
Of course, another advantage of implants is that they look and feel completely natural. Just ask Steven Tyler!
If you would like more information about dental implants, please contact us or schedule an appointment for a consultation. You can also learn more by reading the Dear Doctor magazine article "Dental Implants." Dear Doctor also has more on "The Hidden Consequences of Losing Teeth."
By Andrew Thompson, DDS, PC
August 06, 2013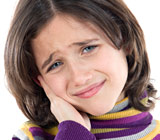 It can be daunting for parents to know just what to do when their child complains of an ache or pain. What if your child tells you their tooth hurts — is that cause for alarm? That's actually not so easy to determine, but there are some things you should do when your child has a toothache.
First, try to determine from your child exactly where the pain is coming from and how long it's been hurting. Look for an apparent cause for the pain: the most common is tooth decay, considered a type of infection caused by bacteria, and normally indicated by brown spots or tiny holes (cavities) on the biting surfaces or between teeth. Look for swelling or tenderness in the gum tissues, a sign of a possible abscess. Debris caught between teeth may also cause pain.
The pain might stem from an injury. Though the lips and outer tissues may appear fine, a blow to the face or other traumatic incident may have damaged the teeth. Without treatment, pulp tissue within a traumatized tooth may die and lead to an infection and potential tooth loss.
If you see any of these signs or symptoms, or the pain keeps your child up at night or continues into the next day, you should contact our office as soon as possible so that we can do a full evaluation of the tooth. In the meantime, there are some things you can do to help lessen the pain. First, clean the teeth to remove any debris. Administer ibuprofen or acetaminophen (in the proper dosage for a child) for pain relief. An ice pack against the jaw may also help, but alternate on and off in five-minute intervals to prevent burning the skin with the ice.
If these steps stop the pain within an hour, you can wait until the next day to make an appointment. If not, this may be indicative of an abscess forming and you should not delay contacting our office. The quicker we can properly diagnose and begin treatment, the less chance your child will suffer from any long-term damage to their teeth.
If you would like more information on caring for a child's toothache, please contact us or schedule an appointment for a consultation. You can also learn more about this topic by reading the Dear Doctor magazine article "A Child's Toothache."