Posts for tag: mouthguards
By Andrew Thompson, DDS, PC
May 03, 2020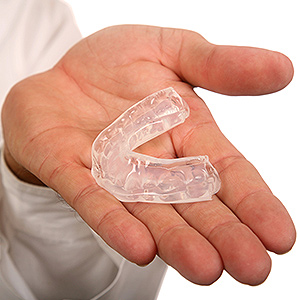 Athletes in contact sports are at significant risk for traumatic injury to their teeth and mouth. It's estimated 600,000 emergency room visits each year involve a sports-related dental injury.
Athletic mouthguards have become the premier safeguard against sports-related oral injuries. First worn by professional boxers in the 1920s, mouthguards are now required for use by various sports associations and leagues — from amateur youth to professional — for a number of sports. The National Collegiate Athletic Association (NCAA), for example, requires their use during play for hockey, lacrosse, field hockey and football. The American Dental Association recommends mouthguards for 29 sports or exercise activities.
But do mouthguards actually prevent injury? To answer that question in a scientific manner, the Journal of Sports Medicine published an evidence-based report in 2007 on mouthguard effectiveness for preventing or reducing the severity of oral-facial injuries and concussions. While the report objectively analyzed many of the problems and issues associated with mouthguards (like materials, design and durability), it concluded the risk of an oral-facial injury was nearly two times greater without the wearing of a mouthguard.
That being said, most dentists and other professionals in sports safety would advise not all mouthguards are alike. The stock, "off the shelf" mouthguard found in many retail stores with limited size offerings is the least expensive, but also least protective, of mouthguard types. Mouth-formed or "boil-and-bite" protectors, which are softened in boiling water and then bit down on by the player to form the fit, are better than the stock version — however, they often don't cover all of the player's back teeth.
The best option is a custom-designed guard made by a dentist for the individual patient. Although relatively expensive (costs range in the hundreds, compared with $25 or less for a stock guard), they provide the highest recognized level of mouth protection.
The bottom line: a mouthguard is a must-wear part of any uniform for any sport that involves contact or high velocity objects of play. If you or a family member is a contact sport athlete, it's essential you protect your teeth and mouth with a custom-fit, high quality mouthguard.
If you would like more information on mouthguards, please contact us or schedule an appointment for a consultation. You can also learn more about this topic by reading the Dear Doctor magazine article "Athletic Mouthguards."
By Andrew Thompson, DDS, PC
June 12, 2016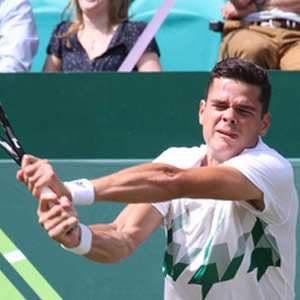 When you're among the top players in your field, you need every advantage to help you stay competitive: Not just the best equipment, but anything else that relieves pain and stress, and allows you to play better. For top-seeded Canadian tennis player Milos Raonic, that extra help came in a somewhat unexpected form: a custom made mouthguard that he wears on the court and off. "[It helps] to not grind my teeth while I play," said the 25-year-old up-and-coming ace. "It just causes stress and headaches sometimes."
Mouthguards are often worn by athletes engaged in sports that carry the risk of dental injury — such as basketball, football, hockey, and some two dozen others; wearing one is a great way to keep your teeth from being seriously injured. But Raonic's mouthguard isn't primarily for safety; it's actually designed to help him solve the problem of teeth grinding, or bruxism. This habitual behavior causes him to unconsciously tense up his jaw, potentially leading to problems with muscles and teeth.
Bruxism is a common issue that's often caused or aggravated by stress. You don't have to be a world-class athlete to suffer from this condition: Everyday anxieties can have the same effect. The behavior is often worsened when you consume stimulating substances, such as alcohol, tobacco, caffeine, and other drugs.
While bruxism affects thousands of people, some don't even suspect they have it. That's because it may occur at any time — even while you're asleep! The powerful jaw muscles that clench and grind teeth together can wear down tooth enamel, and damage both natural teeth and dental work. They can even cause loose teeth! What's more, a clenching and grinding habit can result in pain, headaches and muscle soreness… which can really put you off your game.
There are several ways to relieve the problem of bruxism. Stress reduction is one approach that works in some cases. When it's not enough, a custom made occlusal guard (also called a night guard or mouthguard) provided by our office can make a big difference. "When I don't sleep with it for a night," Raonic said "I can feel my jaw muscles just tense up the next day. I don't sense myself grinding but I can sort of feel that difference the next day."
 An occlusal guard is made from an exact model of your own mouth. It helps to keep your teeth in better alignment and prevent them from coming into contact, so they can't damage each other. It also protects your jaw joints from being stressed by excessive force. Plus, it's secure and comfortable to wear. "I wear it all the time other than when I'm eating, so I got used to it pretty quickly," said Raonic.
Teeth grinding can be a big problem — whether you put on your game face on the court… or at home. If you would like more information about bruxism, contact us or schedule an appointment for a consultation. You can learn more in the Dear Doctor magazine articles "Stress & Tooth Habits" and "When Children Grind Their Teeth."
By Andrew Thompson, DDS, PC
August 01, 2014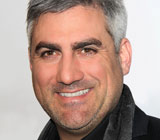 Some train intensively for months ahead of time, so they can achieve peak performance during the season; others simply enjoy occasional pick-up games with friends. But here's something all athletes, both amateurs and professionals, should know: Dental accidents in sports can happen at any time, and the consequences of not wearing the proper protective equipment can be serious.
Don't believe us? Just ask American Idol season 5 winner Taylor Hicks. Before his singing career took off, Hicks was a high-school basketball star; he lost his two front teeth during a championship game.
"It was just one of those collisions that happen in sports," Hicks recently told Dear Doctor magazine. "I never wore a mouthguard in basketball. Obviously I should have."
We agree. And we want to remind you that basketball isn't the only game that poses a risk to your teeth (although statistics show it's the leading cause of sports-related dental injuries). Soccer, bike riding, and equestrian sports — along with some two dozen other games and physical activities — are all on the American Dental Association's list of sports in which participants should wear a mouthguard.
What's the best kind of mouthguard? The answer is: the one you actually wear. For the maximum comfort and protection, there's nothing like a custom-fitted mouthguard provided by our office. This is a piece of protective equipment that's individually crafted just for you — in fact, it's made from a model of you own teeth! Not only will it fit your mouth perfectly, but it's also strong, lightweight and easy to wear.
It's true that off-the-shelf mouthguards are available from big-box retailers in limited sizes (like small, medium and large); also available are the so-called "boil and bite" types, which you soften in hot water before molding them into shape with the pressure of your fingers, teeth and tongue. Either one of these options is probably better than nothing — but neither provides the level of protection and comfort that a custom-made mouthguard offers.
When you consider the potential cost of tooth replacement — not just its hefty price tag, but also the lost time, trouble and inconvenience it can cause — we think you'll agree that a perfectly fitted mouthguard, made by our office, is a piece of sports equipment you really can't afford to do without. Best of all, its cost is quite reasonable.
So if you're the active type, come in to ask us about fitting you with a custom mouthguard. For more information, please contact us or schedule an appointment for a consultation. You can learn more in the Dear Doctor magazine articles "Athletic Mouthguards" and "An Introduction to Sports Injuries & Dentistry."