Posts for tag: partial denture
By Andrew Thompson, DDS, PC
July 23, 2018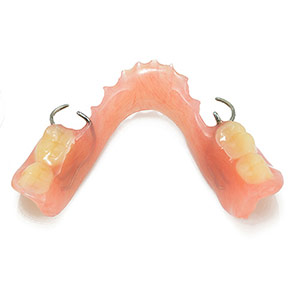 You would love to replace your missing teeth with dental implants. And for good reason — they're the best way to restore life-like, functional teeth. But there's one problem — implants and fixed bridgework (the next, best option) are financially out of your reach.
There's another viable option, though, that might fit your budget — removable partial dentures (RPDs). Similar to full dentures, RPDs replace only the missing teeth in a dental arch. And they're much less expensive than implants or bridgework.
RPDs are custom made to fit an individual patient and their particular missing teeth locations. Their frameworks are usually made of vitallium, a strong but lightweight metal alloy. With vitallium, the frame can be made thin enough not to be noticeable but still conduct sensation.
A pink resin or plastic that mimics gum tissue covers the frame, to which we attach prosthetic (false) teeth made of porcelain, glass-filled resin or plastic to precisely match the missing teeth locations. The RPD is held in place with small metal clasps that fit around remaining natural teeth.
RPDs are designed to minimize movement and avoid undue pressure on the gum ridges, which could accelerate underlying bone loss. In certain situations, though, the location of some missing teeth could complicate matters. If you're missing a tooth in the back where the appliance coverage ends, the RPD may not be as stable.
The solution, ironically, could be a dental implant placed strategically at the end of the RPD, where it connects securely with the appliance. You would only need one or two implants, which won't dramatically increase costs.
One thing to remember with an RPD: they tend to accumulate bacterial plaque, the trigger for both tooth decay and periodontal (gum) disease. That's why it's important to practice daily effective hygiene by cleaning the RPD and your remaining teeth and gums, as well as taking the RPD out at night.
A well-maintained RPD could last for many years. With this appliance you can still have functional teeth and a winning smile, even without implants.
If you would like more information on removable dentures, please contact us or schedule an appointment for a consultation. You can also learn more about this topic by reading the Dear Doctor magazine article "Removable Partial Dentures: Still a Viable Tooth-Replacement Alternative."
By Andrew Thompson, DDS, PC
January 06, 2018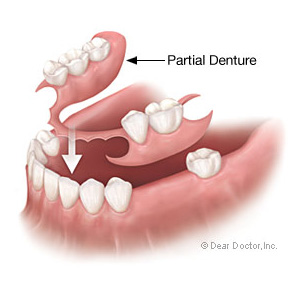 Dental implants are today's preferred choice for replacing missing teeth. They're the closest restoration to natural teeth—but at a price, especially for multiple teeth. If implants are beyond your current financial ability, there's an older, more affordable option: a removable partial denture (RPD).
Similar in concept to a full denture, a RPD replaces one or more missing teeth on a jaw. It usually consists of a lightweight but sturdy metal frame supporting a resin or plastic base (colored pink to mimic gum tissue). Prosthetic (false) teeth are attached to the base at the locations of the missing teeth. Unlike transitional dentures, RPDs are designed to last for many years.
Although simple in concept, RPDs certainly aren't a "one-size-fits-all" option. To achieve long-term success with an RPD we must first consider the number of missing teeth and where they're located in the jaw. This will dictate the type of layout and construction needed to create a custom RPD.
In addition, we'll need to consider the health and condition of your remaining teeth. This can be important to an RPD's design, especially if we intend to use them to support the RPD during wear. Support is a fundamental concern because we want to prevent the RPD from excessively moving in place.
Besides dental support we'll also need to take into account how the jaws function when they bite. The RPD's design should evenly distribute the forces generated when you eat and chew so as not to create undue pressure on the bony ridges of the jaw upon which the RPD rests. Too much pressure could accelerate bone loss in the jaw, a common issue with dentures.
It takes a lot of planning to create a comfortably-fitting RPD with minimal impact on your dental health. But you'll also have to maintain it to ensure lasting durability. You should clean your RPD daily, as well as brush and floss the rest of your teeth to minimize the chances of developing tooth decay or periodontal (gum) disease. You can further discourage disease-causing bacterial growth by removing them at night while you sleep.
A RPD can be a viable alternative to more expensive restorations. And with the right design and proper care it could serve you and your smile for a long time to come.
If you would like more information on removable partial dentures, please contact us or schedule an appointment for a consultation. You can also learn more about this topic by reading the Dear Doctor magazine article "Removable Partial Dentures."
By Andrew Thompson, DDS, PC
June 20, 2016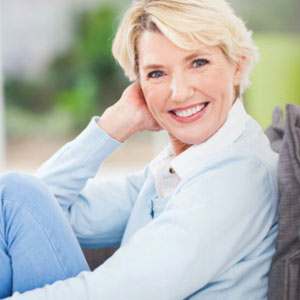 In an ideal situation, you would transition from a missing tooth to a permanent replacement with as little time in between as possible. Unfortunately, reality can intrude on the best of intentions.
For example, dental implants are one of the best ways to regain the form and function of a lost tooth. They are, however, initially expensive, especially if you're replacing multiple teeth. Your financial ability may force you to wait — which means you need a solution now, if only temporarily.
Fortunately, a removable partial denture (RPD) could be the temporary solution you're looking for. There are various kinds and all quite affordable; one of the more versatile is a flexible version made of a form of nylon. Due to its thermoplasticity, the nylon is quite pliable when heated and can be easily molded into a denture base with attaching prosthetic teeth. They're comfortable to wear and attach to the remaining teeth at the gum line with flexible, finger-like clasps.
 RPDs are designed as a transitional replacement between tooth loss and a permanent restoration such as implants, bridges or permanent dentures. Their light weight, comfort and affordability also make them tempting to consider as a permanent replacement.
They do, however, have some drawbacks that make them less desirable for long-term use. They weren't designed for relining or repair, so such efforts can be difficult. The clasp holding them in place may also trap food and bacteria that increase the risk of dental disease to the gums and remaining teeth. You can minimize some of these weaknesses by properly cleaning and maintaining the RPD, and taking them out at night to inhibit the growth of bacteria while you sleep.
Mainly, though, you should primarily consider a RPD as a temporary bridge between lost teeth and a permanent restoration. To that end, we'll work with you to develop a treatment and finance plan that will help you achieve a more permanent and satisfying restoration.
If you would like more information on teeth replacement options, please contact us or schedule an appointment for a consultation. You can also learn more about this topic by reading the Dear Doctor magazine article "Flexible Partial Dentures."