Posts for tag: snoring
By Andrew Thompson, DDS, PC
March 20, 2019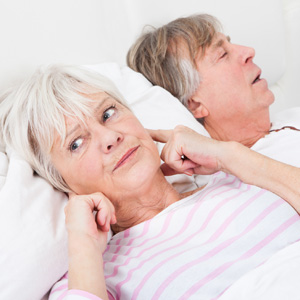 For millions of Americans, sleep apnea is a serious health condition. Not only can it impair your day-to-day living, you might be more susceptible to high blood pressure, heart disease or stroke.
Sleep apnea occurs when you stop breathing for short periods while asleep. When blood oxygen drops too low, your body automatically wakes you to take a breath. This can disrupt your sleep several times a night. Chronic symptoms like drowsiness, irritability or headaches during the day, or indications you're a loud snorer, are all possible signs of sleep apnea.
Fortunately, we can treat sleep apnea. One way is continuous airway pressure therapy (CPAP), a pump device that supplies pressurized air through a mask to keep the airway open during sleep. Although CPAP is effective, some people find it uncomfortable to use.
There's a more comfortable option for sleep apnea caused by mouth structures like the tongue or tonsils obstructing the airway. It involves a custom-fitted oral appliance worn while you sleep that moves these structures out of the way.
Such appliances come in two basic types. One type fits over the upper and lower teeth and uses tiny metal hinges to move the lower jaw and tongue forward away from the airway. The other fits around and presses the tongue down like a tongue depressor to move it forward.
Before starting treatment, we need to first find out if you actually have sleep apnea and what's causing it (some cases may be more acute and require advanced treatments like jaw surgery). We'll need to perform medical and oral exams and take a history, and we'll likely refer you to a sleep medicine specialist for further testing.
If you have obstructive sleep apnea, a custom-fitted appliance could be a good solution. We'll create and adjust it according to your particular mouth and jaw contours for maximum comfort. Besides the appliance, you might also lose excess weight, adjust your sleep position, seek treatment for allergies, and quit smoking. All these could help reduce sleep apnea.
In any event, your first step is to find out if you have sleep apnea. From there we'll help you find the right treatment to improve your overall health and well being.
If you would like more information on treatments for sleep apnea, please contact us or schedule an appointment for a consultation. You can also learn more about this topic by reading the Dear Doctor magazine article "Sleep Disorders & Dentistry."
By Andrew Thompson, DDS, PC
March 10, 2017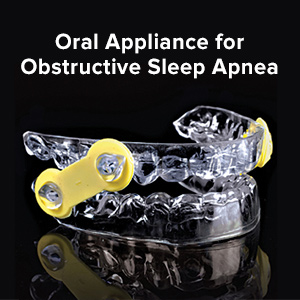 Daily fatigue or complaints of your snoring from family have led you to see your doctor about the problem. After an exam and a test session in a sleep lab, your problem now has a name — obstructive sleep apnea.
This common sleep-related breathing disorder (SRBD) occurs when the soft tissues in the back of the throat over-relax during sleep. The relaxed tissues obstruct air flow to the trachea (windpipe) and cause "apnea," where you cease to breathe. The lack of oxygen causes you to wake, even for a micro-second, to begin breathing again. This may occur multiple times throughout the night, diminishing the quality of your sleep and leading not only to drowsiness and daily fatigue but also contribute to cardiovascular disease or other systemic conditions.
The most effective treatment for sleep apnea is the use of a Continuous Positive Airway Pressure (CPAP) machine while you sleep. The machine delivers pressurized air to a face mask you wear while you sleep; the additional pressure keeps the airway open. However, a CPAP machine does have a few disadvantages, including discomfort while attached to the machine, nasal congestion and dryness, or claustrophobia. These effects can be so pronounced for some patients, they're unable to adjust themselves to the machine.
If you have mild to moderate sleep apnea, there may be an alternative — a custom-fitted oral appliance we manufacture for you to wear in your mouth while you sleep. The appliance pulls the lower jaw forward resulting in a wider opening of the airway. In addition to being less cumbersome than a CPAP mask, an oral appliance is easier to wear, compact in size for easy travel and doesn't require electricity.
While an oral appliance is an effective alternative to a CPAP machine for many patients, it does have a few disadvantages including problems with saliva flow (too much or too little), muscle or teeth soreness and minor tooth or jaw movement. Still, an oral appliance might be the right solution to relieve your sleep apnea over the long-term.
If you would like more information on treatments for sleep apnea, please contact us or schedule an appointment for a consultation. You can also learn more about this topic by reading the Dear Doctor magazine articles "Sleep Disorders & Dentistry" and "Sleep Apnea FAQs."